MacCallum Family Tree children
McCallum family per the book Intrepid Woman by Patrick M R Gibson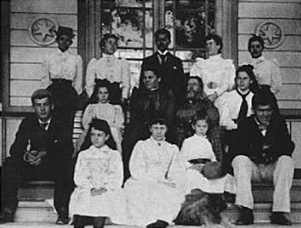 Entire McCallum Family at Schusselburg
Back Rwo: Louise, Elise Jr, William Jr, Ellen, Alice
Middle Row: John, Margaret, Elise Snr, William Snr, Flossie, Edward
Front Row: Katie, Mary, Vera.
Looking for more info on Elise Charlotte Favre 1845-1906
The family is searching for more information on Elise Charlotte Favre and her ancestory. Charlotte Johansen Hamilton has uncovered some great stuff here on Elise Charlotte Favre's page.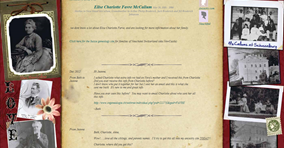 Home where Vera Broderick was born in Schluesselburg Russia.
River Neva island at Lake Ladoga

Images from the McCallum house in Lausanne Switzerland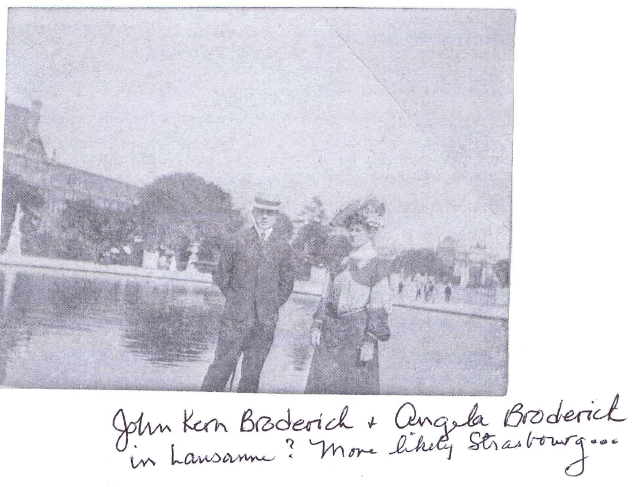 Hi Jeanne, My mother ("Aunt Jill") spells it MacCallum. And, also, Benny's date of death has always been imprinted on my brain as July 17, 1961. Mother always said that Benny herself wasn't sure of her birthdate due to the difference between the Russian calendar back then and our calendar. Yes, I do have formal photos of William (2) and Elise Charlotte (1). I'll scan them and send them to you next week. ~ Charlotte
Mac or Mc means the same thing in the Scottish language which is .... Son of. So William McCallum means "William, the son of Callum". The two prefixed were interchanged at will apparently as the meant the same thing. However, in America the family started to only use the spelling of McCallum. ~Beth


Royal Connection-specilation that the family home was a prior royal summer palace
I sent Anne and Beth a copy of a letter that Aunt Margaret ( one of Vera's older sisters) wrote in 1891 when still quite young. It was a letter to a children's literary magazine. At the time I sent it, I didn't have your email on hand; I am glad that you emailed me this evening. I will send it to you. It's charming and written from Schlusselburg and gives us info about the house and the children's life there. It references the house's royal connection which was that the house was built on the foundation of one of Catherine the Great's houses and that they had some of her furniture. It's a large house but not a palace. But who knows if the original foundation was more extensive or what. I just came across this letter on the web earlier this evening. Quite fun. They lived on what was then called St. Catherine's Island quite close to the shore. The island was since re-named Fabrichny Island and now has shipbuilding factories on it. The island actually looks as though it is partially connected to the shore. I can't tell from google earth whether or not the house is nestled in between the factory buildings; probably not, but there is something that looks like it could be a part of the house. Vera thought that after the Seige of Leningrad from 1941 to 1943 the house would've been destroyed as was most of Schusselburg. The Germans had captured the town which was a crucial point in the seige, and the Russian Army must have been pounding Schusselburg with everything they could. I have looked at so many photos of the area but none point directly at what I want to see. Anyway, I just wanted to pass this info along. The letter will be in another email. Charlotte

Wonderful Letter from Aunt Margaret when a child in 1891
This is a copy of a letter written by Aunt Margaret in 1891 to the magazine called "St. Nicholas" by Mary Mapes Dodge. I used to think that when Mother said that Benny told her that the house had belonged to Russian royalty, she must have been wrong because, although the house was very large, it was not palatial in the sense that the royal palaces are. Well, as it turns out, as you can see from this letter that I found through google, Aunt Margaret who was Benny's older sister, explains in her letter (shown below) what connection the house had to the royals. Mother said that Benny had said that they had portraits of royals in the house. Without doing more research, I don't know how old Margaret was at that time, but it looks to me as though her letter was supervised by an adult. Benny would have been seven years old in1891, and there were quite a few children in the birth order between them. I have ordered from Amazon the only copy they had of this volume of the magazine. Anne and Mary Beth, I don't have Jeanne's email address at my finger tips, but you may want to forward this to her. Love, Charlotte

SCHLUSSELBURG, GOVERNMENT OF ST. PETERSBURG,
                                                                               RUSSIA
 
            My Dear St. Nicholas:  I have never seen a letter
from Russia in the "Letter-Box," so I thought I would
write you one, and I hope you will print it.
            I have eight sisters and three brothers.  Two of my
brothers are in England, and the third one is at home, 
but the others come home for the summer holidays, and
we have great fun!       
We live on an island quite close to Lake Ladoga, and
we generally bathe there every day if it is fine weather.
Our island is called St. Catherine's Island; it is a mile
long, and Empress Catherine built a palace here; our
house is on the same foundation as the palace was and we 
have some of her old furniture.  The distance from here
to St. Petersburg is sixty versts (nearly 40 miles).  On
another island, and very far from us, at the mouth of the
Neva, is the fortress where Nihilists are kept.
            Not long ago people were allowed to visit the fortress,
but now it is forbidden; but, this winter the governor
there has been ill, and the officer who took his place is a
friend of my father's, so he let us go and see it.  We
did not see the prisoners' cells, but we saw a very nice 
church.  In the church there is a Bible which was given
by Peter the Great.  The cover is gold, with some dia-
monds, rubies, and emeralds set in it.  There is also a
picture supposed to be painted by St. Luke, and which
some Russians say works miracles.  We were not al-
lowed to see anything else.
            We have a very nice skating-ground, with fir-trees all
round it.  We all skate every day.  We have also an ice-
hill on the skating ground, and we go down on small
sledges or mats.  
            I like your stories very much, and I think "Little
Lord Fauntleroy" is the prettiest story I have ever read.
                        Sincerely yours,          MARGARET McC.
 

Baku Oil Fields
I saw Baku Oil Fields mentioned in one of the 4 sheets that your mom had written from the
info given to her by Jill.&nbsp
And Anne said she remembers that our dad had mentioned something about them.
William McCallum was may have been an investor in them, although after reading the below
information on Baku, it does not appear that he was one of the major ones because they are all
mentioned in the wikipedia article. One was Rothchild and the others were of that type of wealth.
~Beth
Email from Paul: I saw a reference to him being in the textile industry………..I thought that he was managing the Baku oil field production for the Czar while he was living in Saint Petersburg at Lake Ladoga.

Picture of Vera
I am looking at the photocopy now and it looks like the photograph is 3 inches across and 4 inches down. So it is a perfect size to be put in a frame. It is a photo of a young Benny sitting gracefully on the grass with a hat or a shawl at her side.
Maybe I should have Anne scan what I have so you and Charlotte can see what I am talking about. It will be very faded but it will give you a good idea of it. What do you think?
~Beth



MacCallum vs McCallum - Spelling of the family name
Jeanne, Re the spelling of Vera's surname, it is listed as MacCallum in the Peerage book of UK. It is listed there because Margaret Favre MacCallum, when she married for the second time, married Raymond Hubbard, 4th Baron Addington. Her father is listed as William MacCallum, but it gives no other information regarding him or even who his wife was!!! Interesting that her mother didn't count! How times have changed! In any case, it is the same Aunt Margaret (known that way to Mother - Jill) - notice the middle name Favre which was her mother's maiden name: Elise Charlotte MacCallum, nee Favre.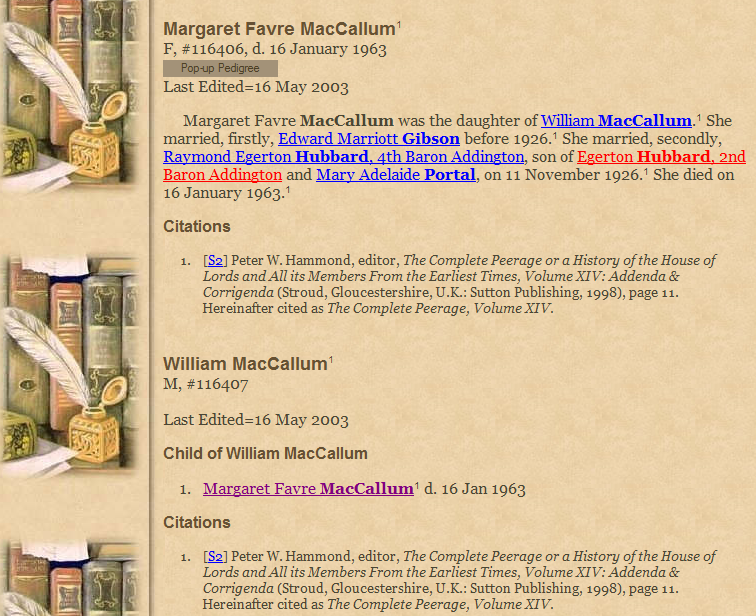 I found a census that has Vera's sister listed as McCallum. However, we have no way of knowing if the census taker confirmed the spelling of the name. It is much more likely that the UK Peerage report is correct compared to a census.




Interesting search results for William MacCallum on the Family-Search website.
Enter William MacCallum born 1838

The following page reveals only one MacCallum born in Scotland in 1838

6. WILLIAM MACCALLUM - International Genealogical Index / BI
Gender: Male Christening: b>08 APR 1838 High Church, Paisley, Renfrew, Scotland

The following page reveals only the parents names as follows
father: JOHN MACCALLUM
mother: MARY DOCHARTY
Jeanne emailed Charlotte to find out if this could be our MacCallums. Charlotte replied:

I believe you've got it!!!
Not just because of the spelling of the name but also because Paisley
was a textile center in Scotland...so that would fit with his (William's) future role in the textile industry.
Note on paisley: The design itself, that sort of crescent shaped teardrop bit, is of Indian and Persian design. The design, when first imported to Europe, got so popular in the 1700′s that it was outlawed in France to give the French fabrics a chance in the market. (Of course the restriction didn't hold up and the popularity of paisley fabrics gave birth to the toile de Jouy industry.)

We know paisley as paisley thanks to the small Scottish town from which it takes its name. During the 19th Century, soldiers who had traipsed across the colonies brought home woven shawls from Kashmir, the East India Company imported more, and soon the Scottish locals got into the swing of things, weaving on their own jacquard looms. Not content with the results, they made some modifications to their looms and soon were able to work in five colours where most other producers had to be content with two. Paisley became the foremost producer of the good stuff and by 1850, they were weaving shawls in fifteen colours. Which was roughly a quarter of the colours being woven in Kashmir….

I need to make sure I add this to ancestry.com

Raymond Egerton Hubbard, 4th Baron Addington1
M, #2018, b. 11 November 1884, d. 17 August 1971
[Pop-up Pedigree]
Raymond Egerton Hubbard, 4th Baron Addington|b. 11 Nov 1884\nd. 17 Aug 1971|p202.htm#i2018|Egerton Hubbard, 2nd Baron Addington|b. 29 Dec 1842\nd. 14 Jun 1915|p146.htm#i1453|Mary Adelaide Portal|b. 20 Mar 1856\nd. 2 Dec 1933|p146.htm#i1454|John G. Hubbard, 1st Baron Addington|b. 21 Mar 1805\nd. 28 Aug 1889|p6978.htm#i69777|Hon. Maria M. Napier|b. 18 Mar 1817\nd. 18 Apr 1896|p8355.htm#i83546|Sir Wyndham S. Portal, 1st Bt.|b. 22 Jul 1822\nd. 14 Sep 1905|p4825.htm#i48249|Mary J. Hicks-Beach|d. 4 Nov 1903|p4825.htm#i48250|

Last Edited=3 Jan 2009
Raymond Egerton Hubbard, 4th Baron Addington was born on 11 November 1884.1 He was the son of Egerton Hubbard, 2nd Baron Addington and Mary Adelaide Portal.1 He married Margaret Favre MacCallum, daughter of William MacCallum, on 11 November 1926.1 He died on 17 August 1971 at age 86, without issue.1
Raymond Egerton Hubbard, 4th Baron Addington was educated at Eton College, Eton, Berkshire, England.1 He graduated from Magdalen College, Oxford University, Oxford, Oxfordshire, England, with a Bachelor of Arts (B.A.).1 He succeeded to the title of 4th Baron Addington, of Addington, Buckinghamshire [U.K., 1887] on 20 June 1966.1
Citations
Margaret Favre MacCallum1
F, #116406, d. 16 January 1963
[Pop-up Pedigree]
Margaret Favre MacCallum|d. 16 Jan 1963|p11641.htm#i116406|William MacCallum||p11641.htm#i116407||||||||||||||||

Last Edited=16 May 2003
Margaret Favre MacCallum was the daughter of William MacCallum.1 She married, firstly, Edward Marriott Gibson before 1926.1 She married, secondly, Raymond Egerton Hubbard, 4th Baron Addington, son of Egerton Hubbard, 2nd Baron Addington and Mary Adelaide Portal, on 11 November 1926.1 She died on 16 January 1963.1
Citations
[S2] Peter W. Hammond, editor, The Complete Peerage or a History of the House of Lords and All its Members From the Earliest Times, Volume XIV: Addenda & Corrigenda (Stroud, Gloucestershire, U.K.: Sutton Publishing, 1998), page 11. Hereinafter cited as The Complete Peerage, Volume XIV
William MacCallum1
M, #116407

Last Edited=16 May 2003
Child of William MacCallum
Citations
[S2] Peter W. Hammond, editor, The Complete Peerage or a History of the House of Lords and All its Members From the Earliest Times, Volume XIV: Addenda & Corrigenda (Stroud, Gloucestershire, U.K.: Sutton Publishing, 1998), page 11. Hereinafter cited as The Complete Peerage, Volume XIV.
Edward Marriott Gibson1
M, #116408, d. before 1926

Last Edited=16 May 2003
Edward Marriott Gibson married Margaret Favre MacCallum, daughter of William MacCallum, before 1926.1 He died before 1926.1
Citations
[S2] Peter W. Hammond, editor, The Complete Peerage or a History of the House of Lords and All its Members From the Earliest Times, Volume XIV: Addenda & Corrigenda (Stroud, Gloucestershire, U.K.: Sutton Publishing, 1998), page 11. Hereinafter cited as The Complete Peerage, Volume XIV.

Mom and Dad, John J Broderick, had invited Aunt Jill to Phil & Betty's and my mother took notes during this visit. Some of these details are being questioned by the family. See responses here.