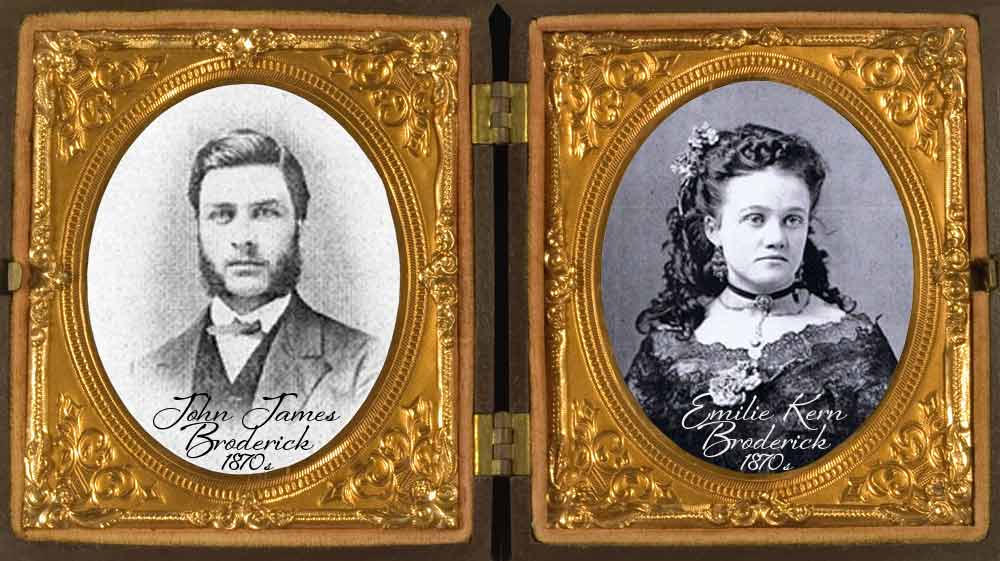 John James Broderick and Emilie Christine Kern. I love these images. i have put them in this lovely frame and put it on my wall. JJB is a bit older than Emilie. I am guessing he was in his 20s while she was approx 16. I would guess these two pictures were taken before they met. ~Jeanne.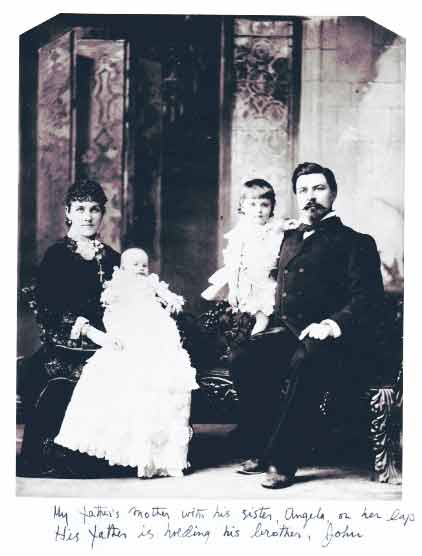 This picture was taken before Arthur L was born.



Anne Bryan Broderick sent me a huge packet on the Broderick Family. She passed away in 2015. I really enjoyed Anne, and am very thankful we had the geneology bug in common. We spent hours on the phone discussing family and our ancestry. Most of the papers I have are from her, and have her handwriting on them. Most of AnneBB's ancestry is documented by Mary Chomeau. Note I refer to Anne Bryan Broderick as AnneBB as we have an Anne in my Dad's immediate family as well. ~Jeanne Broderick Shelton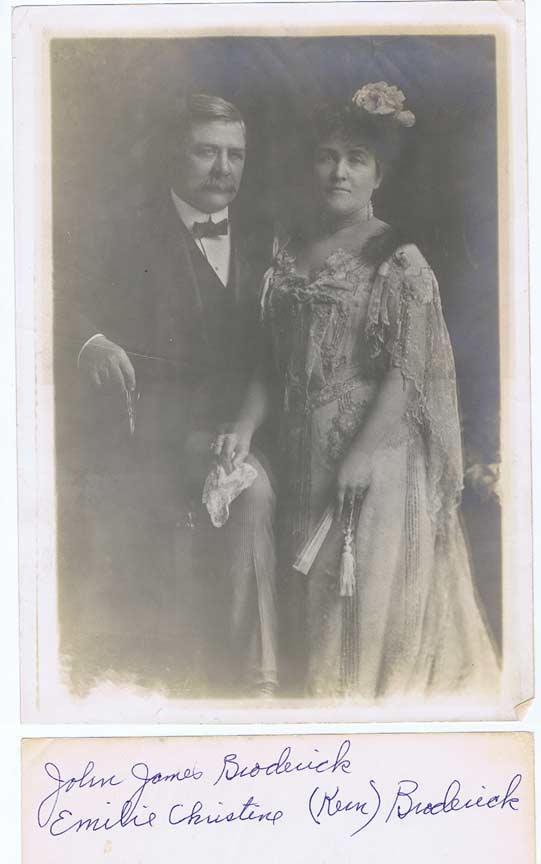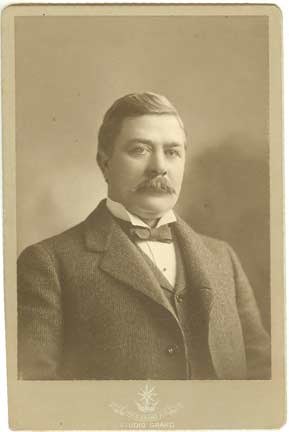 John James Broderick, born December 29, 1846 in County Clare, Ireland; died June 7, 1919 in St.
Louis, Missouri - Calvary Cemetery. He was the son of 16. Patrick Broderick and 17. Anna Duggan. He
married 9. Emilie C. Kern May 8, 1878 in St Louis, Missouri.

Emilie C. Kern, born December 31, 1854 in Missouri; died February 17, 1935 in St. Louis, Missouri -
Calvary Cemetery. She was the daughter of 18. Jacob N. Kern and 19. Marie A. Provo.

Children of John Broderick and Emilie Kern are:

John Kern Broderick, born May 12, 1879 in St. Louis, Missouri; died November 23, 1953 in St. Louis,
Missouri - Oak Hill Cemetery; married Mabel B. Bryan Abt. 1903.
Angela Broderick, born August 1882 in Missouri; married Edgar M. Jennings; born Abt. 1887 in
England.

Arthur L. Broderick, born October 27, 1884 in Missouri; died July 1968 in St. Louis, Missouri - Calvary
Cemetery; married Vera M. Broderick Unknown Abt. 1909; born Abt. 1885 in Russia; died July 20,
1961 in St. Louis, Missouri - Calvary Cemetery.
When did JJB arrive in the US? December 29, 1849, when he was only 3.
It is generally believed that JJB arrived in the US anytime between when he was 3 and when he was 14.

However, the following is JJB's handwriting that he has arrived in the US December 29, 1849. I was so very thrilled to find this 1901 passport where JJB has filled out the form and signed signifying that he arrived in the US in 1849 and was naturalized September 11, 1868.
~Jeanne


How did JJB arrive in the US?
Concerning JJB coming to america,. As far as I know they traveled from Ireland to England then boarded a ship to New Orleans. The entire family walked from New Orleans to STL. Patrick Broderick was registered as a laborer in the 1860 census. JJB was 3 years old when he left Ireland. ~Bryan Broderick 2011
I do recall some of the geneology work done showed the broderick family as arriving in a ship in New Orleans. However that info was for Patrick and Bridget Broderick. Is that what you base the info on regarding Ireland to England to New Orleans? Or is there some other info? ~Jeanne
Where was JJB Born? Scariff County Clare? Glengariff County Cork?
The 1881 passport shown far below states "County Clare Great Britain".
Remember that newspaper article that Joan photocopied years ago and mailed out?

I read this morning an excerpt that leads me to believe Glengarrif is the birthplace for JJB. However, it quickly appears the details are incorrect in this article.



Is this proof we need that JJB was born in Glengarrif?

I dont think so. To the right I have shown the exerpt from the original article (photoshot as it hangs in the Missouri house of Bryan Broderick)  Full Article here allows zooming.

They had to get the information somewhere to write the article.  I assume that family was contacted in order to write the 1946 article. But they could have contacted people at the company without proper details.

Upon closer inspection, the birthdate and birthyear are incorrect. The article states Dec 31, 1847, and we know that JJB's acutal birthdate is Dec 29, 1846 (from the 1901 passport application filled out in JJB's own handwriting and shown above). So this article is more than a year off from the birthdate.

So I dont think we can take the facts of the birthplace in this article as fact. the article states Glengariff, County Clare, Ireland. Anne Bryan Broderick's family group sheet states JJB was born in Scariff Co Clare Ireland. For starters, Glengariff is in County Cork, not County Clare. See Map further below.



This document to the left is from Anne Bryan Broderick. I believe Anne's info came from Mary Chomeau, granddaughter to JJB and daughter of John Kern Broderick. Mary B Broderick Chomeau was very interested in family history.

Anne's document states JJB was born in Scariff Co Clare Ireland.




I wonder if scariff is the actual birthplace, and Glengariff could be the port they used to travel to the US. I have the maps below for comparison. Im interested if anyone in the family knows for sure, and who/what is their source.



Scariff, County Clare, Ireland (not a port)

Wikipedia PDF file here on Scariff

Family Replies:


If I had to bet Anne has more proof than most.
~Bryan Broderick



Glengariff, County Cork, Ireland (could be a port)

Wikipedia PDF file here on Glengariff


| | |
| --- | --- |
| | I think I may have found definitive proof. I see the 1881 passport shows JJB was born in "County Clare Great Britain". I recall thinking Great Britain was odd to see on a document as I understand they are from Ireland. However, Ireland was under Great Britain rule at this time in the 1800s and I have seen it where Great Britain was listed instead of Ireland. |
| | |
JJB is buried at Calvary Cemetery, 1919
Picture courtesy of Anne Bryan Broderick who notes, "This is the Broderick family plot at Calvary Cemetary, taken the day John James Broderick's funeral in 1919."

Right is a stunning image of flowers everywhere at a funeral.  Note the "IKE" headstone on the right with "MORIARITY" on bottom, and the tree in the middle, with the huge "SLEVIN" headstone on the left.    In the image, you can see JJB's casket is right in the middle, and the tree was just recently planted.  Now the tree is huge!!!   Fascinating!!!!! I also note that today's photography is very wide angle compared to the 1919 image.
Map inside Calvary of the plots.



More info to follow soon
a copy of  $5,000 check that was Emilie's monthly allowance in 1928.  Wow. Inflation equates that to $62,500 per month in 2011.

Pics of JJB as a young man.  One pic has him in a buzz cut and a goute (spelling?) the hair just on the middle of the chin.
A great pic of Emilie looking about 20.  Another pic of JJB as a young man.   Anne BB was right.  Her middle brother looks just like him.




Some Brodericks are in this photo of a North family wedding. Please email me if you recognize any Brodericks. ~Jeanne



You asked if anyone knew if there were any Brodericks in the North wedding picture. There are three little girls in the front of the photo. The little girl in the middle swinging the basket is my Aunt Wee, Elisabeth Broderick Meier, daughter of J.K. Broderick Sr. the little girl on her left is Mary Broderick Cheaumoe, her sister. ~ Bryan Broderick