Kern Girls:

katherine 1853-1925
emilie 1854-1935

isabelle 1873-1958
Kern Boys:
Joseph 1859-1937
Rev John 1861-1916
Edward 1865-1937
Louis 1866-1949
Charles 1868-1953
Victor 1875-1961
Julius 1877-1971
White names are known. Gray are guesses. If Joseph is correct (based on 1880 family picture-deduced by ages), then the remaining Kern in the back left must be Edward, Louis or Charles.

Photo emailed to me from Carol Kern (Victor Jrs daughter). I am not sure who is who in this image. I have emailed it to Tom Switzer to see if he knows. ~Jeanne Email from Carol:


Hi Jeanne,
Neither look like Kerns to me. I don't think Isabelle Kern Wurdack is in that picture (from Jeanne: here i am thinking Carol is looking at the pic of Emilie in the carriage. I vaguely recall Charlotte telling me that was not a relative but a travel companion).
Isabelle is in the group picture of 8 people dressed in white. I know that my grandfather, Victor W. Kern is standing second from the left and next to a tall man and Julius L. Kern was on the other side of that tall man on the far right. I believe that Katie is seated on the end on the left, Rev. John Kern next and Emilia Kern Broderick between John and Isabelle.
Looking at your page on Kerns, Edward Kern was a priest and actually performed Mass in the Vatican. John Kern was a priest in the St. Louis area. Victor Kern born 1830 was the brother of Jacob Kern born 1827 and was the one who went to California and came back to St. Louis with $10,000 worth of gold. He bought apartment buildings with his gold and that provided his income. He lived with his niece Katherine Kern and then died in 1901 in Glencoe.
~Carol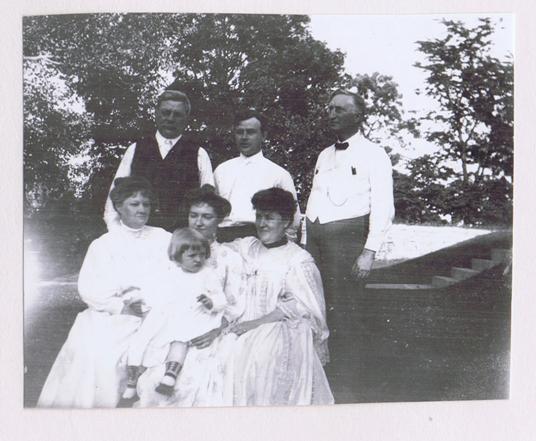 Either Bryan Broderick or his sister Anne gave me this photo. I was told it was the Kern Women. I see JJB in the back row. These do look like the three women in the sepia picture above taken on a porch.. I wonder if the two men are Kern brothers or possilby husbands. I assume it is Katie, Isabelle, and Emilie, and then likely a grandchild on the lap.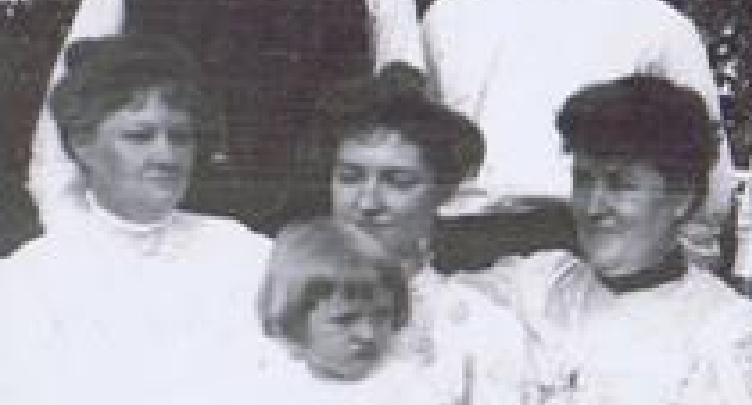 This photo came from Charlotte's white album (likely Aunt Jill Johansen put this album together). It looks like Emilie. I would expect this to be her younger sister Isabelle Wurdack??? It looks like a Florida or Caribbean vacation. Anyone know the details? ~Jeanne

Email from Carol: Neither look like Kerns to me. I don't think Isabelle Kern Wurdack is in that picture.

Per Jill Johansen (see Charlotte's email to the right), this is Vera's sister Mary with Emilie.



Hi Jeanne,

The carriage photo with Emilie and another woman is a photo that I have seen. Mother identified the "other woman" as her Aunt Mary, Vera's sister who lived with Vera and Arthur for more than a decade. Emilie often took Mary with her as a traveling companion. I believe the photo was taken in Palm Beach.

Sometime after Vera and Arthur married, Emilie very kindly brought Mary to the U.S. to keep Vera company so that Vera wouldn't be too lonely here. Obviously, she kept Emilie company too. She stayed until 1926 when Vera and her three children accompanied Mary to England and Lausanne for the summer and then left Mary in Lausanne with the MacCallum family members that still lived there...I believe Alice MacCallum and Louise MacCallum Raitt who was widowed...maybe some others but I can't think of any.
Mother always said that it was very sad when they left Mary; Arthur, however, had grown tired of living in a household that included his sister-in-law. Vera and Mary would usually be on the same side of a disagreement with Arthur.

That's all I know about that photo. You know more about the other photos than I do...Great sleuthing work!

~Charlotte
| | |
| --- | --- |
| Katherine "Katie" Kern from her 1925 Prayer Card | Image from Emilie's red velvet photo album |
| Marie Ann Provo Kern from the family photo | Picture from Emilies photo album |
| | |
| | |
I do wonder if any of the Kerns are in the pictures in Jills albums.  Maybe some of the people in the images of the parties at Glencoe.  There is one image in particular at glencoe, and I wonder who these are