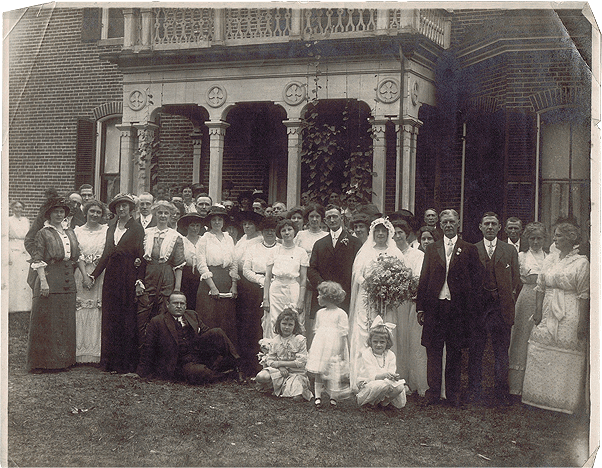 Some Brodericks are in this photo of a North family wedding. Please email me if you recognize any Brodericks.


Picture courtesy of Anne Bryan Broderick who notes, "This is the Broderick family plot at Calvary Cemetary, taken the day John James Broderick's funeral in 1919."

Right is a stunning image of flowers everywhere at a funeral.  Note the "IKE" headstone on the right with "MORIARITY" on bottom, and the tree in the middle, with the huge "SLEVIN" headstone on the left.    In the image, you can see JJB's casket is right in the middle, and the tree was just recently planted.  Now the tree is huge!!!   Fascinating!!!!! I also note that today's photography is very wide angle compared to the 1919 image.
Map inside Calvary of the plots.



Link to Emilie Kern
John James Broderick, born December 29, 1846 in County Clare, Ireland; died June 7, 1919 in St.
Louis, Missouri - Calvary Cemetery. He was the son of 16. Patrick Broderick and 17. Anna Duggan. He
married 9. Emilie C. Kern May 8, 1878 in St Louis, Missouri.

Emilie C. Kern, born December 31, 1854 in Missouri; died February 17, 1935 in St. Louis, Missouri -
Calvary Cemetery. She was the daughter of 18. Jacob N. Kern and 19. Marie A. Provo.

Children of John Broderick and Emilie Kern are:
i. John Kern Broderick, born May 12, 1879 in St. Louis, Missouri; died November 23, 1953 in St. Louis,
Missouri - Oak Hill Cemetery; married Mabel B. Bryan Abt. 1903.
ii. Angela Broderick, born August 1882 in Missouri; married Edgar M. Jennings; born Abt. 1887 in
England.
iii. Arthur L. Broderick, born October 27, 1884 in Missouri; died July 1968 in St. Louis, Missouri - Calvary
Cemetery; married Vera M. Broderick Unknown Abt. 1909; born Abt. 1885 in Russia; died July 20,
1961 in St. Louis, Missouri - Calvary Cemetery.
When did JJB arrive in the US? December 29, 1849, when he was only 3.
It is generally believed that JJB arrived in the US anytime between when he was 3 and when he was 14.

However, the following is JJB's handwriting that he has arrived in the US December 29, 1849. I was so very thrilled to find this 1901 passport where JJB has filled out the form and signed signifying that he arrived in the US in 1849 and was naturalized September 11, 1868.
~Jeanne


Where was JJB Born?
Remember that newspaper article that Joan photocopied years ago and mailed out?

I read this morning an excerpt that leads me to believe Glengarrif is the birthplace for JJB.
Is this proof we need that JJB was born in Glengarrif?
I have taken the following exerpt from the original article (photoshot as it hangs in the MO. house of Bryan Broderick)  Full Article here allows zooming.

They had to get the information somewhere to write the article.  I assume that family was contacted in order to write the 1946 article.
A copy of  $5,000 check that was Emilie's monthly allowance in 1928.  Wow.
Pics of JJB as a young man.  One pic has him in a buzz cut and a goute (spelling?) the hair just on the middle of the chin.
A great pic of Emilie looking about 20.  Another pic of JJB as a young man.   Anne was right.  Her middle brother looks just like him.