A huge thank you to the McGuire family for sharing the Jacob Kern 1824-1895 and Marie Brovo Kern 1836-1881 portraits.



Marie Anne Brovo Provo Provot
Note the last name seemed to change very often for Marie as well as her father Ignatius Provot ancestry.com page




Jacob N Kern (born Jaque)
Jacob's ancestry.com page
Note I found the N in Jacob's name one one of Emilie's documents, possibly her death cert. ~Jeanne

Also, Anne Bryan Broderick's notes on the Kern Family.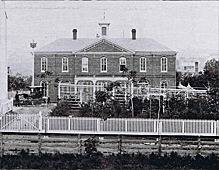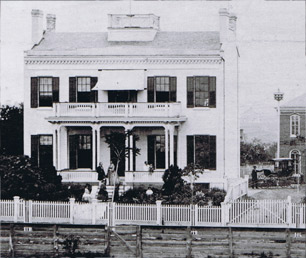 According to
Bryan Broderick,
The boy in this picture
to the left is a Kern.


In 2016, I asked Margaret Shirley Kern "Aunt Shirley" if she knew who this was, and she did not know.


Question:
Bryan, my aunt Anne asked below if we know Edward M Kern. Apparently he was a pioneer who went to California and was pretty famous.
The Kerns were a big family. If I remember most were priests. Doesn't ring a bell. Father Kern was a builder of wagons and build many for the union during the war between the states. He built many wagons for B & B Rope which required many specially built wagons that could haul great weight. I have copies of some of the checks and invoices. ~Bryan Broderick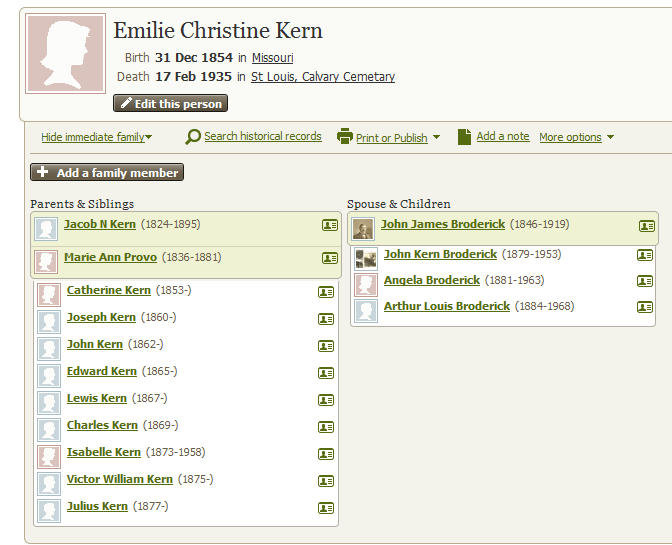 Kern history.   Emilie's family manufactured wagons for the Union army.  Lots here…not going thru now. according to isabelle 1920 census, jacob kern's mother's tongue is German
Jacob N. Kern, born September 8, 1824 in France; died February 25, 1895 in St. Louis, Missouri -
Calvary Cemetery. He married 19. Marie A. Provo February 23, 1852 in St. Louis, Missouri - Vol 5, pg 531.

Marie A. Provo, born August 4, 1836 in French Village, Illinois; died April 28, 1881 in St. Louis,
Missouri - Calvary Cemetery.

More About Jacob N. Kern:
Residence: 1895, 2539 N. Grand Ave. (address on death record)
More About Marie A. Provo:
Residence: 1881, 3228 S Eighth St. (address on death record)


Children of Jacob Kern and Marie Provo are:
i. Catherine Kern, born Abt. 1853 in Missouri; died August 1, 1925 in St. Louis, Missouri - Calvary Cemetery.
ii. Emilie C. Kern, born December 31, 1854 in Missouri; died February 17, 1935 in St. Louis, Missouri - Calvary Cemetery; married John James Broderick May 8, 1878 in St Louis, Missouri.
iii. Joseph Kern, born October 12, 1859 in St. Louis, Missouri; died November 30, 1937 in St. Louis, Missouri - Calvary Cemetery.
iv. John Kern, born Abt. 1860 in Missouri; died August 8, 1860 in St. Louis, Missouri - Calvary Cemetery. John Kern was a priest in the St. Louis area. 
v. Edward Kern, born Abt. 1865 in Missouri. Edward Kern was a priest and actually performed Mass in the Vatican. 
vi. Lewis Kern, born Abt. 1867 in Missouri.
vii. Isabelle Kern, born April 1873; died September 3, 1958 in St. Louis, Missouri - Calvary Cemetery; married Arthur Wurdack; born 1864; died June 5, 1948 in St. Louis, Missouri - Calvary Cemetery.
viii. Victor Kern, born January 1875 in Missouri; died December 28, 1901 in St. Louis, Missouri - Calvary Cemetery.
ix. Julius Kern, born January 1877 in Missouri.


Siblings of Jacob Kern are:
i. John Kern, born mar 17, 1814 in Sarraltroff, by sarrebourg, Fr. ; died August 25, 1856 in St. Louis, Missouri
ii. Katherine Kern, born may 24, 1825in France; died Oct 25, 1855 in Belleville, IL
iii. Victor Kern, born Feb 2, 1829 in Sarraltroff Lorraine; died December 25, 1901 in Glencoe Missouri
Per Carol Kern: Victor Kern born 1830 was the brother of Jacob Kern born 1827 and was the one who went to California and came back to St. Louis with $10,000 worth of gold. He bought apartment buildings with his gold and that provided his income. He lived with his niece Katherine Kern and then died in 1901 in Glencoe. iv. Marguerite Kern, born July 20, 1831 in French village, St Clair, Illinois, USA  
******************* problems at this point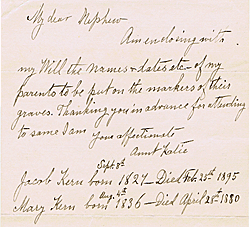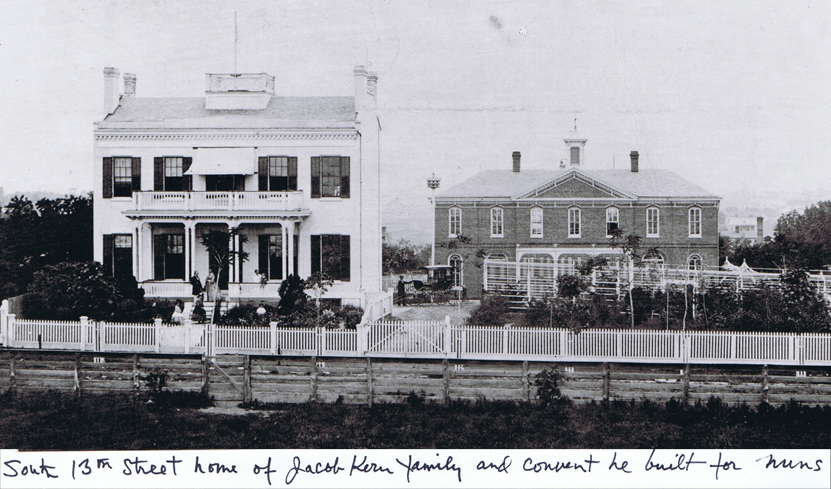 from a phone conversation between me (Jeanne) and Anne Bryan Broderick.
jacob from alcace lorraine which is a province in france
the borders changed a lot. and his mother spoke german because the country's borders changed as germany and france
so much intermarriage and both languages...most bilingual. emilie spoke german before she was an english speaker. her kids spoke german in the hosue. arthur, john & angela were spoken to in german in the house. JKB sr spoke german until he was 6 years old. he was not allowed english until he started going to school, and he demanded haircut because he was a laughing stock, and needed haircut, clothes, and english speaking. Anne Bryan Broderick was surprised he did not have a german accent as he was an older man.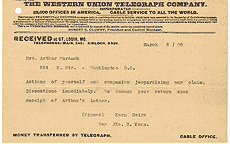 This is an incredible collection of letters regarding a somewhat scandalous series of events where Isabel Kern, who suffered from mental issues, paired with a priest and believed she was handling family business. However, the Kerns and Brodericks were horrified and took all necessary action to stop her. At one point she was even arrested. 26 pages attached here.
Kern family notes from Anne Bryan Broderick.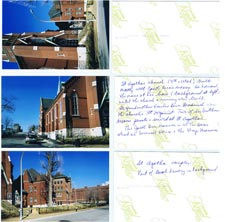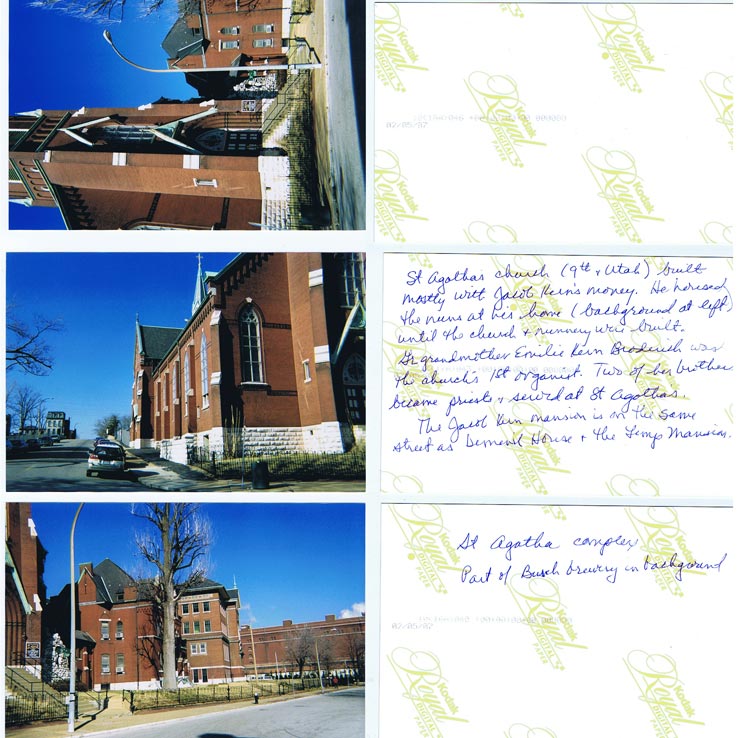 I find this interesting because Anne Bryan Broderick notes that St Agothas was built with "mostly" Jacob Kern's money. i did note in the jubilee publication from the church that many names were mentioned as benefactors, including the Kerns.
Beth McGuire contacted me as she found my Glencoe webpage after her aunt had mentioned it. I am very excited to visit with them on the phone. Beth mentioned her aunt has the original huge family image and it has a hair wreath on it. She sent me these images.
Nov 16, 2015 I had marguerite Scheffer Kern's image and Bryan just sent me the damaged image of the frame Anne BB sent him. It was damaged with some white chunks on his face. I cleaned it up and put it in the frame. Because both were the same kind of painting, it is obvious they were done together, (Jacob Kern's mother and Maria Kern's father). The two below are my 4th great grandparents. ~Jeanne

Ignatius Provot (Emilie Kern's maternal grandfather)

Marguerite Scheffer Kern (Emilie Kern's paternal grandfather)

Anne Bryan Broderick sent this original painting to her brother Bryan Broderick, though the frame had crumbled.




This portrait to the left was given from Anne Bryan Broderick to her Brother Bryan. I digitally matched the frame above with Jacob Kern's mother in it. Marguerite is Jacob's mother and Ignatius is Marie's father. I assume Jacob and Marie had their parents painted, possibly around the same time they had their own paintings (above).

Anne had some notes about Ignatius. She said that he was a bodyguard of Napoleon III. Her notes also mention that his best friend John Kern also was a bodyguard of Napoleon III. This is likely how they met.

It is further my understanding that Ignatius immigrated here first, and got word to Jacob that French Village IL was a wonderful place and he should come with his family. I believe that John Kern's son Jacob was 5 when he immigrated, and Ignatius'daughter Marie was born in IL. ~Jeanne
I was beyond elated when i uncovered this masterpiece. It came with a note that Emilie Broderick Kern drew her maternal grandfather. It is truly an amazing piece, and means so much more to me knowing that my great great grandmother was so talented to pass along a true treasure of my 4th great grandfather. ~Jeanne Broderick Shelton
Note the picture on the right will be hung on my wall so that my kids can grow up knowing our relatives.