Broderick & Bascom Employees



If you have pictures or more information, please email me.
EMPLOYEES




1940s employee Olive Lambert in the checkered dress.

Deb emailed me because she had this wonderful photo of her mother standing in front of the Broderick & Bascom building in her checkered dress, approx date: 1940s. I have put together this slideshow with some nice company images for Deb to gift her mother for her 80th birthday.




Hello Jeanne,

Today my mom and I had a nice chat about her memories of working there.
Now let me tell you - I have for years tried to have her open up and talk about genealogy things. She is a very private person and is not one to eagerly offer up info - especially if she thinks I am going to write it down!

She hates the thought of the "world wide web" knowing her business... But.... what does she say to me as I was leaving this evening??

"Debbie - I want to see all that the nice lady sent about Johnnie and the company.
And tell her, since she asked, I will take the time to write down my memories so you can send them to
her and put it on her website if she wants to, and the photo too."

I couldn't believe it!! Anyway - I will make a point now to have her see ALLL that you sent....and make sure i send you anything she writes..

just a quick synopsis of what she mentioned tonight:
-Johnnie was a wonderful gentleman - (referring to founder John James Broderick)
-mom worked as a data entry person and also covered the switchboard.
-This job was her first professional job - She and the girls she worked with were so proud to be working there.
-They felt respected and loved going to work every day.
-She talked about the factory, as well as the main offices.
-She said they enjoyed playing cards on their breaks.
-The photo I sent is the only part of the photo she has...the rest of it was torn - now sure how that happened she says.

Her face brightened as she talked and seemed happy to be reminiscing about this time in her life.. I will ask her if she has any other photos.

Thanks for showing interest in my mom and her place at Broderick...
And from your request of asking for her memories... thanks for giving me a few moments of happily seeing my mom go down memory lane...
What an unexpected joy for me!

I'll keep in touch,
Sincerely,
Debbie H.



Here is Olive and Deb as a child
Below Deb is on the right in the pink shirt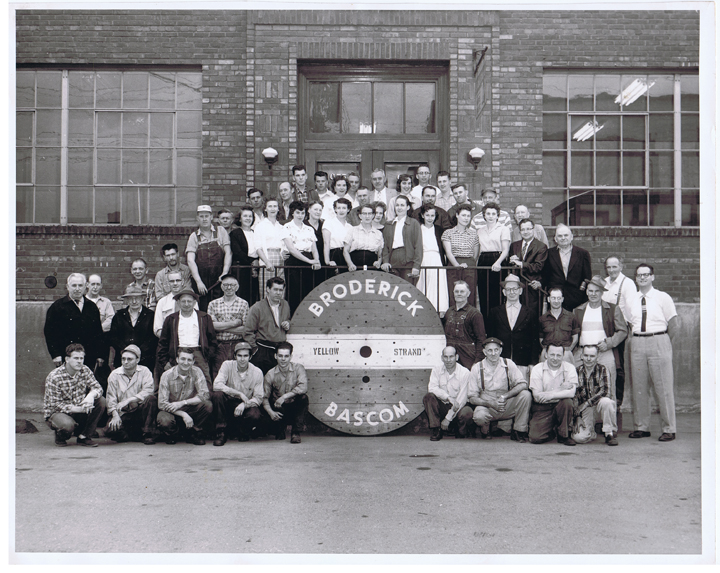 F.W. von Wehrden, Superintendent, St Louis
Feb 2016
I got a wonderful email and picture from Edith Cooper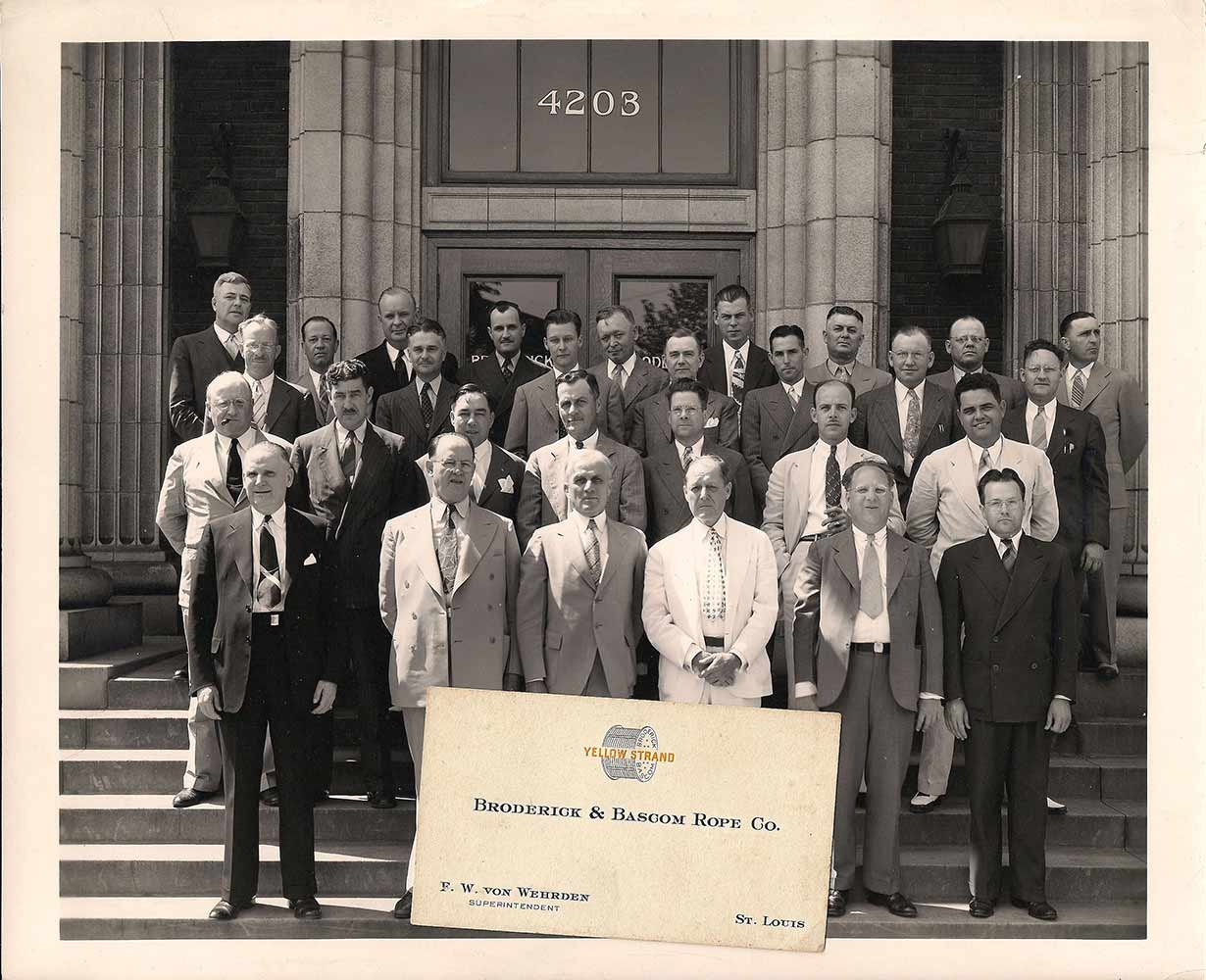 Back Row 4th from the left: FW von Wherden, Front row 3rd from the left, John Kern Broderick, Sr.

I forwarded the pic to my cousin Bryan Borderick, and this is what he had to say:

This is a photo of the Union Road factory and main office in north St. Louis. In 1962 this plant was sold to General Motors and the Corvette was made there for quite some time. The Clark Properties now owns the place and has divided it up into several warehouse spaces. My Grandfather John K Broderick is front center. This photo was taken during the Navy "E" presentation in the 40's.. B & B won several Navy "E" for excellence metals during the war for on time delivery and excellence of products. B & B won this award every year of the war.
~Bryan Broderick
Email from Edith Cooper:

Iam not sure when he started but I know it was in the 1920's and he retired in the mid to late 1950's. I found some correspondences dates 1956, so he was still working for B&B then. I have a lot of yellow strand magazines. I also have a lot of pictures of yellow strand wire rope. I actually have a lot of stuff. Where do you live? I am sure you would like to see all that I have. Each one of us has a B&B wire rope sling.

I am sending a group picture and my Grand father's business card. My grandfather is in the back row the fourth from the left, with the curl in the middle of his forehead. He had a few patents registered through the company. One was a device to use the wire rope to go under a train when it derailed so that people did not have to climb under the train. I have pictures of this and it being used.


So, maybe we could get together and I could share and maybe copy more of what we have. I live in Pennsylvania....my mother met my father when he was stationed at Jefferson Barricks in St. Louis....He stole her heart and took her to PA. We went to St. Louis at least once a year to see our grandparents and cousins. We have a daughter that lives in Peoria, IL and we go there several times a year. Let me know if you would like to see some of this collection. My brother has more of the drawings and also the metal tube in which they were stored. There is a photo album that has stamped on the cover Broderick and Bascom Wire Rope too.
~Eadie

2nd email:

Hello,
My brother forwarded the pictures and articles from Broderick and Bascom. Our Grandfather worked in St. Louis. We have drawings of bridges that he helped design and then over see the construction. We have letters he wrote while on the road for Broderick and Bascom. We have pictures of some of the mining trams too. The plaque on the bottom of the tram says, Walter von Wehrden engineer. I am attaching the one that I have in my basement. It always hung in his basement. His name was Walter von Wehrden. I hope you enjoy the attachments. Sincerely,
Edith Cooper





P.S.
I am attaching a letter he wrote about one of his escapes on a trip for B&B.


John J Broderick - Shipping Manager and 50 years tenure
My grandfather was head of the Shipping Department. One of his frequent stories to my mother regarded how in addition to shipping wire rope all over the world, he also had to ship the personal cars of your John James Broderick and of Mr. Bascom all over the states for their convenience wherever they went, usually by train. ~John Kovarik (grandson) 2016

That was common practice. There were more Railroads than Roads at the time. So almost everything went by rail. B & B had magazine ads for people with cars. The ads were for special slings made from wire rope that "slung" all four tires. The "sling" was then used to hoist the car onto ferries, ships or rail flat beds. ~Bryan Broderick 2016



John Brodeick, ranking among the oldest employees of the Broderick & Bascom Rope Company, died in St Louis on June 2, 1936, less than three weeks before rounding out a half-centry of loyal serivce to his firm.
John broderick was a nephew of John J. Broderick, co-founder and first president of the company. He was born in Scariff, County Clare, Ireland on April 23, 1864, and arrived in the Unites States on June 3, 1886. He joined our organization just 18 days later.

For some thirty-five years, John Broderick held the position of Traffic Manager and Shipping Clerk, capably faithfully, with unswerving "devotedness to duty."

To John Broderick's wideo, Mrs. Johanna C. Broderick, and to his daughters, Miss Lucille C. Broderick, and Mrs. Charles J Eggeman, we extend our deep sympathy.

John Kern Broderick Sr. 1942


In the 1940s the third generations were excelling in the family business.

Brodericks:

Founder: John James Broderick (aka JJB)

son John Kern Broderick (aka JKB)

grandson John Kern Broderick Jr (aka JKB Jr)

Bascoms:

Founder: Joseph D Bascom (aka JDB)

son Charles E Bascom

grandson Joseph H Bascom