Email From Paul Broderick, Nov 26, 2015
I got off at this train station (see map) in Kirkwood from Kansas City Missouri about ten times when we lived on Caroline.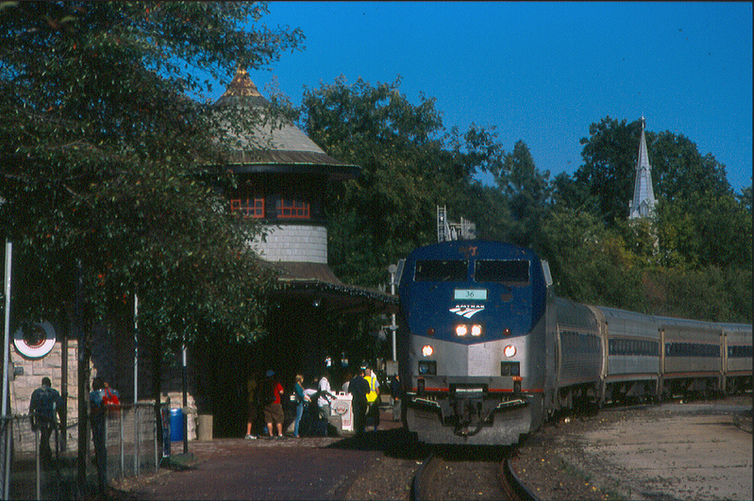 Email From Anne Broderick, Nov 27, 2015
That's the very same station I caught the train to Phoenix when I ran away from home at 18 in '58! Mom an dad brought the entire family to try to keep me from leaving and it was a scene I will never forget when they were making quite a racket as the train pulled away with me on it. You might have been there. Anyone remember?
I also remember walking to that bridge with Papa. I think that was the only walking he did in later years.
Email From John Broderick, Nov 27, 2015
I remember the train station quite well. They had a 5 cents 7 oz coke machine. The station was one block east of Mudd's Grove in kirkwood (Papa and Granny's house)
I remember you leaving however everyday was a racket at home.
I do remember thinking it was your idea to leave us but I was not told or aware of the reasons why. Yes, mom and dad did make it look like you were doing something wrong when in fact you executed your escape from 54 hill drive with quick and immediate precision.
When I was 18 I too escaped on a cold day in Jan of 1962 but left from the downtown train station on a train probably built in 1901 that had wood seats (no pads) and windows we could raise open letting the 90 degree Texas air come in. I went swimming in the on-campus swimming pool that afternoon. After coming to Texas I soon got a part-time job, purchased a motorcycle, and quickly forgot about St. Louis life.
John
Email From Mary Beth Broderick, Nov 28, 2015
I would stay at Papa's and Granny's all the time. Mother took me often and she was probably glad to do so. I would stay many days in a row sometimes. Papa would take me to see the train everyday as I loved to go so much. After that we would walk down the block to Max's Candy Store. I loved those days. I have so many other memories besides these. Papa died when I was only seven years old in 1954. Beth .