Alice Broderick was most notably a stuntwoman for Lucille Ball during her movies filmed in the 40s, but was also her lifetime friend. Alice did stunts for Francis Robinson as well.
Francis (left) and Alice (right).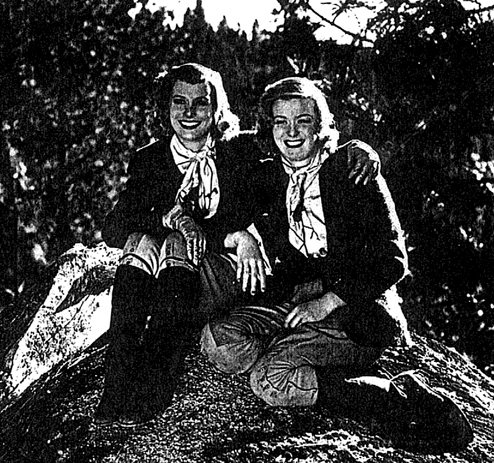 Frances Robinson [Marion Frances Ladd]
(Claire 'Brooksie' Brooks)
Stage, Screen, Radio, and Television Actress
(1916-1971)
Birthplace: Ft. Wandsworth, NY

Radiography:
1940 Silver Theatre
1941-1949 Lux Radio Theatre
1945 Philo Vance
1945 Cavalcade of America
1946-1954 Let George Do It
1948 The Whistler
1948 Camel Screen Guild Theatre
1949 Adventures of Philip Marlowe
1949 Hallmark Playhouse
1949 Screen Director's Playhouse
1950 Richard Diamond, Private Detective
1950 The Adventures of The Saint


Lovely Frances Robinson in a 1940s publicity still



Eleanor Hansen and Frances Robinson on a Murray's Cigarette Card from the late 1930s
(roll over the image for the back of the card)



Lovely, helpless damsel Frances Robinson is spirited away by a renegade gorilla in Tim Tyler's Luck from 1937



Frances Robinson poses with Johnny Mack Brown and Bob Baker in publicity still for 1940's Riders of Pasco Basin.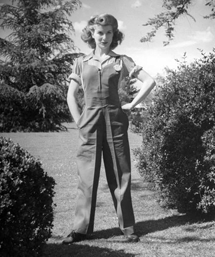 Frances Robinson models the latest Rosie the Riveter wear from 1942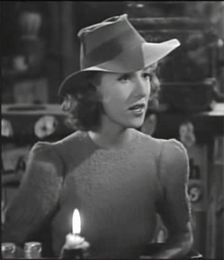 Frances Robinson as Pat Lawrence in 1940's The Lone Wolf Keeps A Date


To say that Frances Robinson was simply a multi-talented stage, screen, radio, and television actress doesn't do her justice. Between 1935 and 1951, she was one of the hardest working actresses in Radio. If her name seems familiar, you may remember her as George Valentine's loving personal assistant in 'Let George Do It', along with numerous appearances in Richard Diamond, Philip Marlowe, The Whistler, and many other Detective and Mystery genre programs of the era. But it was her ensemble work as Claire 'Brooksie' Brooks with Robert Bailey as George Valentine and Wally Maher as Lieutenant Riley in the first three years of Let George Do It that endeared her to the vast majority of her most stalwart Radio fans.

We heard that kind of Radio magic so rarely in Radio, but when it happened there was usually no predicting it. It simply took on a life of its own as a particularly effective ensemble grew into their respective roles, made them their own, leant their particular charm to the characterizations and literally melded with their foils or counterparts in the ensemble. Such was the cast of the early years of Let George Do It. Indeed she wasn't much of a dialectition. She didn't really need to be. She was simply possessed of an amazingly endearing, charming voice backed up by absolutely splendidly versatile acting talent.

She never really had to either modulate or alter her voice. She was always precisley as expressive as she intended--or needed-- to be, while always projecting that 'girl-next-door' charm that was positively rivetting in every role.

As cute as her voice, she was also a solid supporting actress on Stage and in Film prior to her Radio and Television careers, as well as a fine supporting actress throughout the Golden Age of Television. Seen in several of the popular Screen Serials of the 1930s, she was usually cast as either the blonde damsel in distress, or the gun moll with a heart. Whether in the arms of Buster Crabbe, Tom Tyler, Johnny Mack Brown, or Tim Holt--or for that matter a wild gorilla--Frances Robinson was the epitome of damsel in distress. She was simply, naturally irresistable.

However, her first Film role was as simply 'blonde drunk' in 1937's Millions In the Air with Wendy Barrie. Thereafter, in a succession of suspense thrillers, potboilers, cliff-hangers and straight dramas, Frances Robinson performed in a widely versatile range of roles, from the aforementioned damsels in distress, to young professional women, to gun molls and gangster foils, to romantic co-leads. She was as adept at light comedy as she was in melodramatic roles and she clearly didn't take herself so seriously as to turn down the occasional helpless--or hapless--blonde.

Her Film career spanned almost thirty-five years and her Television career twenty-six years. During that same performing span she also compiled a sixteen year career in Radio, encompassing some 1,000-plus performances.

While not only distinguishing herself as a fine supporting actress in Television, she was also an effective commercial spokesperson, most notably as the spokesperson for Arrid Deodorant during the 1950s. Indeed after her career in radio she worked steadily in television, making over 100 appearances between 1954 and 1970.

Her performing career was only ended by her passing in 1971, at the age of only 55. There's no doubt that had she lived longer she'd have been in demand well into her 70s. As it was, Frances Robinson spent virtually every day of her adult life either modeling or acting--and she was absolutely delightful in both.

One of the 20th Century's most overlooked female performers, she joins an exclusive sorority of some 50 or so absolutely amazing actresses from the Golden Age of Radio that literally did it all--Stage, Screeen, Radio, Television and Commercials. And they worked as hard as any of their male counterparts in the process. Indeed, in many instances they had to work even harder to earn the same standard of living--and respect--as their male counterparts.

But as with the others in her exclusive sisterhood, Frances Robinson was constantly in demand because she was simply that good. Period.