Isn't this a charming little find!?!?!?
It is among Mother's memorabilia.
It seems that the wedding took place on Saturday, May 8, 1909. The little booklet says Saturday in one article and also May 8 in another but doesn't mention the year...so I looked up 1908 and 1909 and found that May 8 was on a Saturday in 1909 which is the year that Mother had previously told me. At least, this confirms it.
All of the decoration in the book is cut out and glued on. Nothing is drawn by hand. The fabric "B" on the cover is probably glued or stitched but, as you can see, it is also pinned on in a very nice way. Enjoy...
~Charlotte




Yes.  This is wonderful.  I have read the articles, and it is funny how much
detail is in there. Do you have any pics of that wedding?  I don't recall the pics in the albums I scanned.
~Jeanne


No photos at all of the wedding or reception afterward. If there were any, they must have been lost.  Too bad. Although...I just found today two wedding invitations that I have scanned.  One was sent to Edgar Jennings and one to Mr. and Mrs. Charles Kern (would that be Emilie's brother and sister-in-law or who?).  There is also a card inside the invitation stating the reception would be at the house.  Anyway, I'll send them tomorrow.
~Charlotte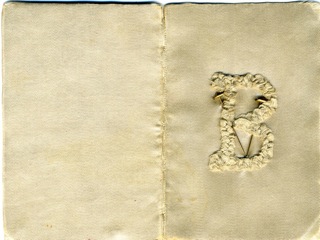 I
Wedding Book: Vera MacCallum and Arthur Broderick
Cover Made of Silver Grey Satin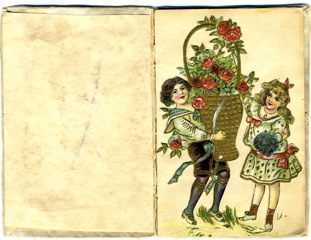 Wedding Book continued
Interior Facing Pages #1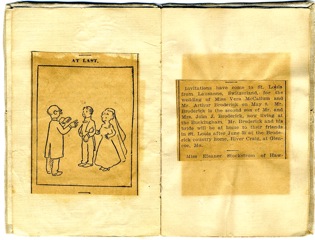 Wedding Book (continued)
Interior Facing Pages #2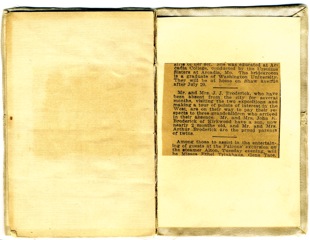 Wedding Book continued
Interior Facing Pages #3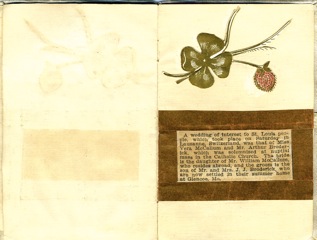 Wedding Book continued
interior Facing Pages #4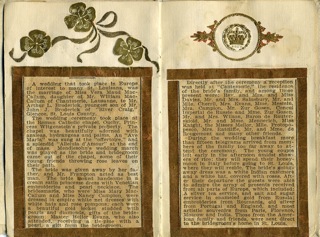 Wedding Book continued
Interior Facing Pages #5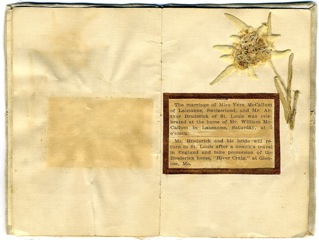 Wedding Book continued
Interior Facing Pages #6